Connecting with Our Inner Stories through OH Associative Cards

Saturday 17th March 2018
10.00 am to 4.00 pm
Venue : Central

London
The OH cards are therapeutic tools which enable us to increase the understanding of our inner world, stimulate spontaneity and permit us to discover our unknown resources. The cards foster our imagination and creativity allowing us to tell our stories, to explore how we see ourselves in the world and how we relate to others.
In this workshop the cards are used as a script which invites the participants to shift from telling the story to experiencing it by using movement, sound and art.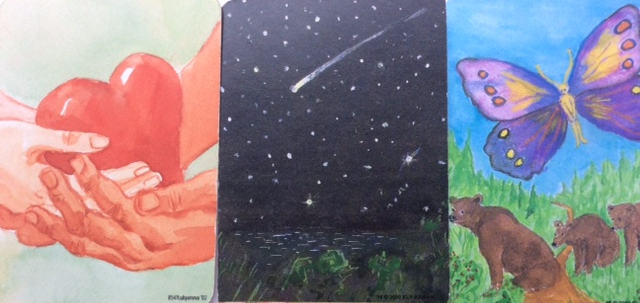 We will work in small groups using the associative cards with different structures which allow the participants to express, release and work through their emotions without being invaded.
BOOKING INFORMATION
Please book early. There are limited places for this workshop
To book please email me on lililevy77@gmail.com with the following information:
Full name
Profession
Contact details
In order to secure your place please pay the full amount to:
Lili Levy
Account Number: 30270393
Sort Code: 20 9179
A receipt, map, directions will be sent to you when we have processed your place.
Full fee : £ 80 Students fee : £ 65
Please note that we are unable to refund your fee
For more information: www.oh-cards.com


Lili Levy
I am a trained Psychologist and Clinical Supervisor and working as a Dramaptherapist for over 20 years. I have worked with different individuals and groups from carers, the elderly, to families with a member suffering from mental health. I have a vast experience using the Associative cards in Therapy and in Supervision.
Currently I work as a Supervisor for first year students at the Dramatherapy MA course at Roehampton University. For many years I have offered therapy to students attending Roehampton, Sesame/Central and Derby Dramatherapy courses. I work as a trainer at Institute of Family Therapy (ITAD) Madrid and I have a private practice.
I am a co-author of the Spanish book "La Representación de las Emociones en la Dramaterapia published in 2003 Ed MédicaPanamericana .